The €250m Opera Center project – designed to transform Limerick city center – could become an example of new tricks for old bricks with a climate and sustainable dividend for other major building projects.
It is one of the largest projects in the country involving the recycling and reuse of construction rubble in which more than 1,000 tons of stone, brick, cobblestone, old doors and gates have been recovered after leveling of the four acre site.
Sustainability and conservation have been cornerstones of the project from the start.
Sixteen old buildings, many of which are Georgian and of significant historical significance, are retained for use as accommodation, but huge volumes of materials that would otherwise go to landfill are also harvested for reuse in other building projects.
Phillipa King is co-ordinator of the Southern Region Waste Management Office, which oversees waste management plans for ten counties across Munster and South Leinster, explained that it started with the very first pre-audit demolition of the country which identified in advance which materials could be reused.
"The pre-demolition audit was designed to determine how much material on the site could be reused, recycled, reused and possibly rebuilt, and only as a last option would disposal to landfill be considered, as they are becoming very limited in the country.
"The goal was ultimately to divert as much waste as possible and maximize resource recovery on site as the buildings were demolished and I think we've achieved that.
"A key objective for Limerick today is to adopt international best practice in the circular building environment and what is happening at Opera is another example of this," said Ms King.
Dave Conway, CEO of Limerick Twenty Thirty, the company leading the Opera House construction project, said the sustainability aspect was part of the project from the start, aiming to breathe new life into other projects of construction from what they harvest on the site of the Opera.
"We want to be market leaders in terms of sustainability benchmarks for this project. The site will be fossil-free in terms of sustainable living and working in the future. It will also be an example and a model for others. other construction sites in the future. We are pursuing platinum-lead standards in terms of construction and zero emissions, which is now demanded for residential and work spaces."
"It's also the right thing to do. We want what happened here to happen elsewhere and not take away resources that can be reused by future generations," he said.
Materials have already been diverted for re-use on a wall at the Foynes Flying Boat Museum, for the repair of a wall at Holycross Abbey in County Tipperary, palisade panels have been sent to the Rugby Club of Richmond and the metal front doors of the old attic. were sent for use by Limerick Civic Trust.
But there is still new life for those old stones and bricks. With the help of Limerick Regeneration Funds and the Limerick City Build organisation, they are also being used to train early school leavers as stonemasons and for other building trades.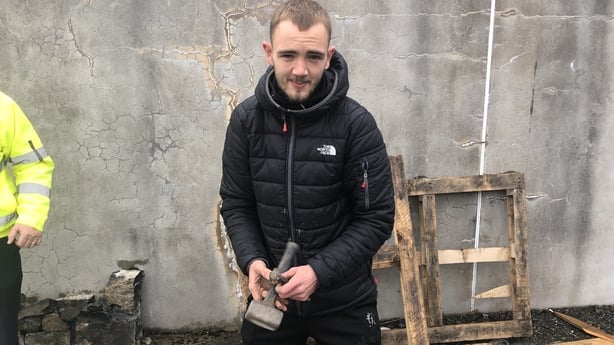 Manus McCarthy is one of the young men currently training, blasting and clearing old stone, which is of excellent quality.
"I love working with stone, getting my hands dirty and learning the skills to reuse stone, and there's a lot of it and it's good quality, I love the work," he said .
Ray O'Halloran, who runs Limerick City Build, which has helped retrain this group, said many come from marginalized communities who have come out of the education system and are looking for new opportunities to retrain and start working.
"There is another purpose for the stone, in addition to giving new life to other construction projects, it is also giving another purpose to the guys who work with it and increasing their potential as employees.
"There are a lot of jobs and jobs out there, but we need to give trainees not just the manual skills to do the different trades, but the skills to stay on the job, follow instructions and respond. to the day-to-day demands of working and bonding with it," he says.